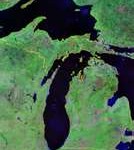 If you are a Michigan resident or attending college in the state of Michigan, and looking to fund your education, there are state of Michigan scholarships available to help you. If you conduct scholarship searches online you can find additional information by doing a search on Michigan scholarships.
One such search engine to get you started on your Michigan scholarship search is Michigan Scholarships Online. It is a mi.gov search engine in which a current or prospective student creates an account through the website and researches information on Michigan's Competitive Scholarships, Tuition Grants, and Post Secondary Access Student Scholarship programs. It also gives financial aid workers in colleges' access to records for students who are enrolled or applying to Michigan Competitive Scholarship and Michigan Tuition Grant programs.
So what is the Michigan Competitive Scholarship Program?
The Michigan Competitive Scholarship Program is a program funded on financial need and academic merit. Students that are enrolled in this program can use their funds in private and public universities and colleges. In order to qualify, the student must take the ACT test before they start applying to their college of choice. The awards for the Michigan Competitive Scholarship Program range from $600 – $1,500 per academic year at a Michigan college or university. They are only restricted to helping with payment for tuition and any mandatory fees for their program of choice. The number of this kind of award given out is undetermined; however, at least one person from all participating colleges receives it. If you are looking for a deadline, it will vary depending on which college or university you plan on attending and what that school's requirements are. In order to be given the highest priority, students must file a FAFSA (Free Application for Federal Student Aid) form by March 1 and renew it to keep their eligibility up to date.
Guy M. Wilson Scholarship
The Guy M. Wilson Scholarship is awarded to those students who are graduates of Michigan high schools and have an honorable veteran as a parent or grandparent. The deadline for the Guy M. Wilson Scholarship is annually on January 17 of each year. Sponsored by the American Legion of Michigan, this scholarship awards $500 based on a minimum of a 2.5 GPA, financial need, proof of grandparents or parents military service record and an essay from the student about their goals and intentions for their future and the money they are awarded. To date the number of scholarships given is undetermined and it depends on how many applicants apply.
Michigan Business and Professional Women's Foundation Educational Scholarship
The Michigan Business and Professional Women's Foundation offers an Educational Scholarship for those requesting funds to further their education as a college student or post-graduate college. In order to be eligible and to be considered, the student/applicant must submit their application online via email or snail mail along with an essay discussing their background, leadership roles and how education will enhance their career, community involvement and its impact on others, awards they may have received in their life, the career intent and goals, and the best possible argument as to why an award should be given. The deadline for submission is the end of January for each year. The amount awarded depends on the need (which is any amount requested and granted). The number of people who have been given this award has increased in demand due to economic troubles due to many students looking to continue on with their education.
Rosa L. Parks Scholarship
The Rosa L. Parks Scholarship is given annually to those high school seniors who hold true to the philosophy of Rosa Parks while showing their community involvement, academic scholastics, and financial need. In order to qualify, a Michigan high school senior with G.P.A. 2.5 or higher. Applications should be submitted by March 01 of each year and can only be applied to once. The monies amount to at least $2,000. More than 800 high school seniors have been awarded each year annually. This makes an outstanding state scholarship for Michigan students. In fact any of the above are top state of Michigan scholarships which every student interested in attending college in MI should apply to.